BLOWING
William Gudenrath
I am very excited to teach a workshop at Niijima! If you have lightweight, small blowpipes, please bring them.  Please bring your favorite hand tools (including a soffieta if you have one).  Please bring photos of your favorite Venetian objects for discussion, inspiration, and possible demonstration.  I look forward to meeting each of you and working closely and successfully together.
class description:Venecian Style of Working
This course will provide you with a firm foundation in the basic movements of Venetian-style glassblowing. It will include the making of well-formed and thinly blown vessel bodies, excellent necks, delicate mereses, and blown feet and stems. When you have mastered these techniques, you will proceed to making canes and studying cane working processes. Historical objects will be studied, initially to frustrate, and then to inspire. One year of glassblowing experience is required.
---William Gudenrath
WEBSITE:William Gudenrath(corning museum site)
FlameWorking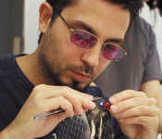 Emanuel Toffolo
Emanuel Toffolo was born in Murano in 1982, and ever since he has been surrounded by the art of glass. He has followed in the footsteps of his father Cesare, and a long lineage of celebrated Glass Artists. Upon graduating in 2001 from the High School of Art in Venice, he began flameworking glass. Thanks to his passion for the natural subjects and particularly for the insect world, he focused his work in the reproduction of different kinds of insects in glass." What began as a past-time, out of simple pleasure, without any special apprenticeship or training, quickly became his life passion – especially with the encouragement and suggestions of his father. Thus, inspired by the love and passion for this art, he continued and this has become his career. In 2013, the Art Alliance for Contemporary Glass - a not-for-profit organization whose mission is to further the development and appreciation of art made from glass – selected Emanuel as Artist of the Month. His glasswork has also been displayed at the Glass Weekend exhibit at the Wheaton Arts and Cultural Centre in Millville, New Jersey. In 2014, Emanuel opened his own glass studio in Burano Venice, where he continues working glass, exploring his life passion."
class description: GLASS BEETLES
This course will focus on the realization of glass beetles work, in soft glass. Students will learn to create different insect bodies, antennas, legs and so on. Students are encouraged to bring drawings, images, ideas..., that can be material to see and discuss together. The course is for all levels of students, but some flameworking glass experience would be helpful.
--- Emanuel Toffolo
WEBSITE:http://www.toffolo.com/
---
Artist in Residence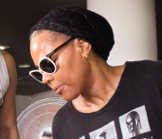 Debora Moore
Debora Moore is a Seattle-based artist and member of the African American Design Archive at the Cooper Hewitt National Design Museum. Her work, primarily imaginatively hot-sculpted botanical studies, has been shown at prestigious venues including the Smithsonian Institution in Washington, DC and was selected in 2007 by the Corning Museum of Glass for the Rakow Commission. In 2015, the Northwest African American Museum in Seattle held a solo exhibition of her work entitled, Glass Orchidarium.

Message from the artist
I had the pleasure of accompanying my husband Benjamin Moore 19 years ago for the 9th annual Niijima International Glass Festival in 1996, one of the premier glass facilities in the world. My stay at the Glass Arts Center has resonated with me ever since. It being my first experience in Japan, I found the whole community of the island of Niijima to be very kind, welcoming, supportive and enthusiastic about the studio glass movement.
It is a privilege and great honor to return to Japan to be a part of the 28th Niijima International Glass Arts Festival. During the festival I plan on continuing my botanical studies in glass, primarily my investigation of natural textures found within bark, plants and leaves as well as incorporating Kogaseki stone as a possible element within the sculpture.
During this workshop I hope to encourage students, leading by example to channel their inner botanists as they examine, isolate, and translate naturally occurring patterns onto glass surfaces in the Hot Shop. Finding inspiration amongst the plethora of natural wonders the island community of Niijima. Working with the skilled and disciplined people of Japan I feel as if there could be no better place to immerse myself in my work as well as the opportunity for rich cultural exchange.
---Debora Moore
WEBSITE:http://deboramoore.com/
---